Pain & Pregnancy
Pregnancy can be challenging for a mother's body before, during and after delivery of her baby. Common presentations include pelvic girdle pain, pelvic neuralgias, neck, rib and low back pain. Some complaints can present many years later, after a difficult delivery, such as pudendal neuralgia.
Elizabeth Howard is one of Australia's leading Osteopaths with experience in treating the pelvis. In this course, you will learn how to easily identify the most common presentations and how you can more effectively help women during pregnancy, prepare for labour and recover efficiently from delivery or caesarean section. The course will discuss breastfeeding ergonomics and the prevention of future delivery-related complaints.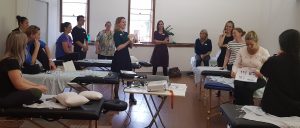 Liz will discuss problems related to pelvic mesh products and how these have been managed at the Women's Health & Research Institute of Australia with Prof Thierry Vancaillie.
Treatment protocols and techniques demonstrated are based on the latest clinical guidelines for managing pelvic girdle and peripheral neuropathic pain, and the prevention of post-partum complications. You will learn useful self-management tips that women can include in their birth plan and beyond.
Learning Outcomes
Assessment protocols for common complaints during pregnancy
Treatment protocol for pelvic girdle pain for pregnancy and post-partum
Treatment principles for pelvic neuralgias
Principles of post-partum care, including pelvic health, caesarean care, breastfeeding ergonomics
Birth plan support with a focus on long-term maternal and child health
Update on the controversial pelvic mesh complications and how to help support these women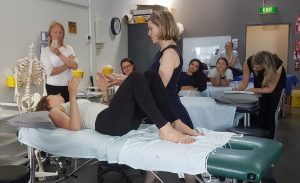 Pain & Pregnancy Course Details
The Pain in Pregnancy course is applicable to all allied health manual therapy practitioners with no prior experience treating pregnancy required. It will include practical examination and treatment protocols you will be able to use with confidence in your practice.
The course will run from 8:30 AM to 4 PM. Places are limited to 20 attendees. It also includes morning and afternoon tea, e-notes and an e-certificate of attendance for your CPD records. The course can be counted as 6 hours CPD.
ACA course code: Y18-041
Feedback
Organisation and venue was great which left participants comfortable to concentrate on the excellent delivery of very helpful and relevant information and instruction. Well done everyone involved and a big thank you to Liz for so generously sharing her skill and expertise.
Gopi McLeod
This was hands down one of the best courses I have attended! The balance of updated info, the course structure and the hands on practice was brilliant. I especially enjoyed that you tailored the course to the attendees and the one day course structure so that I don't feel burned out on the weekend and it didn't impact work as much as a two day course may have. Thank you very much to all of the tutors and Liz for your guidance and support.
Casey Beaumont
Clear instruction, straight to the point, no wasting time.
Leonardo Viola
We don't call it the shoulder complex for nothing – it's complicated! Diagnosing and treating this part of the body can at times be frustrating and confusing. Reacquaint yourself up-close and personal with the anatomy of the shoulder girdle by examining upper-limb cadaver specimens to improve your understanding of common presentations.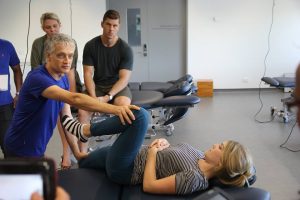 This course will include a morning in the Southern Cross University cadaver lab with Osteopath Dr Rudi Gerhardt reviewing the anatomy of the shoulder complex. You will briefly revise the brachial plexus, embryology and comparative anatomy of the shoulder, explore pathomechanisms such as scapular dyskinesis and more.
In the afternoon transfer and apply the anatomical perspectives from the cadaver lab into a clinical setting with diagnosis, treatment and rehabilitation of common shoulder presentations. This will enable you to visualise and treat impingement, tears and instability with confidence.
Rudi is a graduate of Sports-Physiotherapy (Munich, 1984), Osteopathy (Belgium, IAO, 1999) and B.Sc. Anatomy (UNSW, 2002). He has more than 20 years of lecturing and tutoring experience including Anatomy (UNSW), Neuroanatomy & Clinical Reasoning (UWS), and Neuroscience, Histology, Embryology and Osteopathy skills (SCU). He has also presented CPD and at conferences extensively.
Learning Outcomes
Review functional anatomy of the shoulder complex using cadaver specimens,
Revise the brachial plexus in theory and in the anatomy cadaver lab,
Review of the embryology and comparative anatomy of the shoulder,
Explore pathomechanisms such as scapular dyskinesis and more,
Integrate clinical examination of the shoulder complex including screening, orthopaedic tests and functional assessment,
Gain a new perspective on common presentations such as impingement, tears and instability,
Discover novel and established treatment protocols and rehabilitation exercises.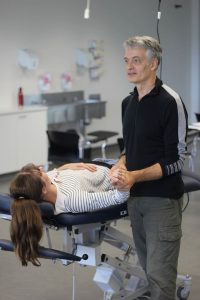 Course Details
The Anatomy Up Close wet lab is open to Physiotherapists, Osteopaths and Chiropractors. It includes practical examination, treatment and rehabilitation approaches that you will be able to use with confidence in your practice. The workshop will be hosted at Southern Cross University, a 10-minute walk from the Gold Coast airport terminal from 9AM to 5PM.
Places are limited to 24 attendees. It includes lunch and snacks throughout the day. E-notes will be made available for you to print if you require as well as an e-certificate of attendance for your CPD records. The course can be counted as 6 hours CPD.