Get up close with the anatomical structures that you treat every day in your practice.
If it's been a while since you had the privilege of returning to the anatomy laboratory to learn, then you'll love this course!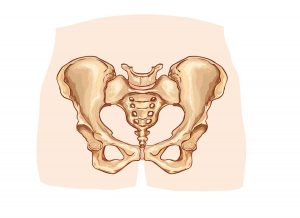 Pelvic pain and organ dysfunction is a common presentation in our society and this sensitive area of practice requires a sound understanding of the functional clinical anatomy, common symptoms, and treatment approaches available.
This clinical anatomy course is structured around real case studies seen by the interdisciplinary team at the Women's Health & Research Institute of Australia in Sydney.
Presentation of patient history, clinical examination, treatments, interventional options and clinical outcomes will be incorporated into viewing the clinical and functional anatomy of relevant pre-dissected pelvic cadavers under the guidance of gynaecological surgeon and pain physician Prof Thierry Vancaillie.
The day will conclude with a tour of Melbourne Uni's private Harry Brookes Allen Museum of Anatomy and Pathology - one of Australia's largest collections of human tissue specimens, comparative anatomy specimens and historical anatomical models.
Learning Outcomes
At the end of this workshop you will be able to;
Better visualise and understand the anatomical structures of the pelvis
Describe the key features of embryological development of the pelvis and perineum
Identify the key anatomical structures on cadaver specimens relevant to common pelvic and perineal pain presentations including

Musculoskeletal tissues of the pelvic girdle (SIJ, PS, Coccyx)
Pelvic floor muscles and the interrelationship to the hip
Lumbosacral plexus, pelvic and perineal nerve pathways
Pelvic organ relationships and connections to musculoskeletal structures

List the key clinical signs and symptoms of the common clinical presentations of the pelvis and perineum such as

Pelvic girdle pain
Coccydynia
Pelvic floor myalgia
Piriformis syndrome
Pelvic nerve pain including pudendal, obturator

Describe the best practice clinical examination for the above conditions and when further diagnostic testing is indicated (eg. when an internal / gynaecological examination is required)
Course Details
This course is applicable to all medical practitioners and allied health with an interest in pelvic anatomy. It would serve as an excellent addition to Liz Howard's Pain & Pregnancy and Pelvic Pain Puzzle courses.
The course will also feature exclusive access to anatomy, embryology, physiology pre-learning videos (to maximise time in the lab). Internal techniques will not be demonstrated.
The course will run from 8:45AM to 4:30PM. Places are limited to 24 attendees. It includes morning and afternoon tea and an e-certificate of attendance for your CPD records. The course can be counted as 8 hours CPD.
About the Presenters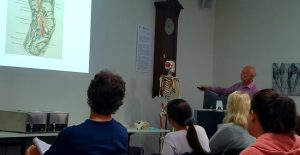 Professor Thierry Vancaillie is one of Australia's few accredited Gynaecologist and Pain Medicine Physicians, renowned for his role in developing minimally invasive procedures, including hysteroscopic and laparoscopic surgery. His expertise includes pudendal neuralgia, pelvic pain, post-surgical pain due to mesh implants and the surgical treatment of infertility due to Asherman's Syndrome.
Liz Howard has 25 years experience as an osteopath. She holds the title of Advanced Pain Management Osteopath (USYD), pain educator and clinical specialist in sacral neuromodulation. She has more than 17 years' experience teaching at multiple Australian universities and as a CPD provider. Liz has been working in collaboration with Prof Vancaillie the team at WHRIA for over 10 years, providing osteopathic manual therapy, pain education, exercise and home care advice to help guide patients on their path to recovery, as a part of a whole team approach.
The Women's Health & Research Institute of Australia (WHRIA) is a tertiary specialist clinic for pelvic and perineal pain, general gynaecology and hormone issues, with referrals for women and men from all over Australia.
Pain & Pregnancy
Liz Howard is one of Australia's leading Osteopaths with experience in treating the pelvis. Working closely with Pain Physician and Gynaecologist Prof Thierry Vancaillie at the Women's Health & Research Institute of Australia Liz sees the consequences of difficult births, pregnancies and prolonged labour every day. With the right approach, great clinical results can be achieved for many complex presentations and Liz is passionate about sharing her knowledge and experience in this area.
In Pain & Pregnancy, you'll learn how to best assist women prepare for birth as well as post-partum covering topics such as prolapse, diastasis recti, preventing nerve pain, pelvic girdle pain, post-cesarean care, breastfeeding ergonomics, and more.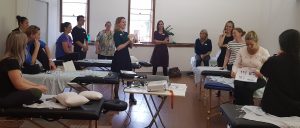 Treatment protocols and techniques demonstrated are based on the latest clinical guidelines for reducing pelvic floor delivery trauma, managing pelvic girdle pain, and the prevention of post-partum complications in the short and long term. You will learn useful self-management tips that women can utilize during pregnancy, in birth-planning and the post-partum period.
Learning Outcomes
Assessment protocols for common complaints during pregnancy including diastasis recti, pelvic girdle pain
Treatment protocol for pelvic girdle pain during pregnancy, when a belt is indicated and postpartum rehabilitation
Early detection of pelvic neuralgias via clinical history
Reducing the risk of prolapse
Principles of post-partum care including pelvic health, caesarean care, breastfeeding ergonomics
Birth plan support with a focus on long-term maternal and child health (prolapse, nerve pain, pelvic organ function)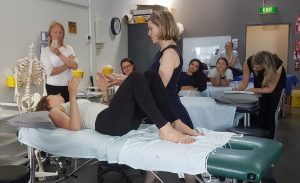 Pain & Pregnancy Course Details
The Pain in Pregnancy course is applicable to all allied health manual therapy practitioners with no prior experience treating pregnancy required. It will include practical examination and treatment protocols you will be able to use with confidence in your practice.
The course will run from 8:30 AM to 4 PM. It includes morning and afternoon tea, e-notes and an e-certificate of attendance for your CPD records. The course can be counted as 7 hours CPD.
After completing this course attendees will have the opportunity to attend Liz Howard's Pelvic Pain Puzzle course which teaches the management of pelvic and perineal pain.
ACA course code: Y18-041
COVID Protocols
For the this event to proceed in the current COVID environment attendees will be required to comply with the following:
All attendees must be prepared to wear masks while at the venue
If attendees experience any COVID symptoms on the day of the event they must refrain from attending
Any new COVID rules which may be introduced before the event
If this event is forced to be cancelled or postponed attendees will be offered a full refund.
Feedback
Organisation and venue was great which left participants comfortable to concentrate on the excellent delivery of very helpful and relevant information and instruction. Well done everyone involved and a big thank you to Liz for so generously sharing her skill and expertise.
Gopi McLeod
This was hands down one of the best courses I have attended! The balance of updated info, the course structure and the hands on practice was brilliant. I especially enjoyed that you tailored the course to the attendees and the one day course structure so that I don't feel burned out on the weekend and it didn't impact work as much as a two day course may have. Thank you very much to all of the tutors and Liz for your guidance and support.
Casey Beaumont
Clear instruction, straight to the point, no wasting time.
Leonardo Viola