Cervicogenic Dizziness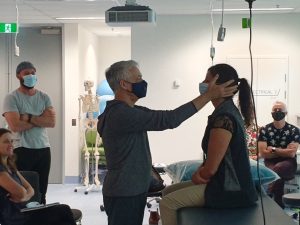 Cervicogenic dizziness (CGD) is a clinical syndrome characterized by the presence of dizziness and associated neck pain. Although there have been advancements in regards of clinical tests, CGD remains a challenging diagnosis of exclusion. Especially given that dizziness and neck pain are common symptoms with complex and multifactorial etiologies.
It can be difficult for healthcare professionals to differentiate CGD from other vestibular, medical, and vascular disorders that cause dizziness, requiring a high level of skill and knowlegde. This course will teach you the battery of tests and measures to narrow the diagnostic window and accurately rule in or out competing diagnoses.
Learn how to assess your patient's cervicogenic dizziness beyond the standard neurologic exam with a comprehensive clinical vestibular and oculomotor exam in the form of 'bedside tests' including procedures such as the Dix-Hallpike maneuver, HINTS+ exam; Joint Position Error assessment; Smooth-Pursuit Neck-Torsion and the Head-Neck Differentiation Tests and more. Acquire the skills to manage and treat those patients with manual techniques, sensory-motor, gaze stability, balance, and oculomotor training, as well as tailored cervical flexibility, stability and proprioceptive exercises.
Learning Objectives
Understand basic concepts and etiopathological mechanisms of cervicogenic dizziness
Learn about other conditions causing dizziness for the purpose of differential diagnoses
Learn the proper tests and measures to accurately rule in or out competing diagnoses
Acquire the skills to perform the necessary specialised examination
Learn the appropriate management and treatment protocols for CGD
Learn neurologic and neurotologic exams, comprehensive clinical vestibular exam, the bedside head impulse test, the Dix-Hallpike maneuver, oculomotor testing, functional mobility and gait assessments and more.
Cervicogenic Dizziness Course Details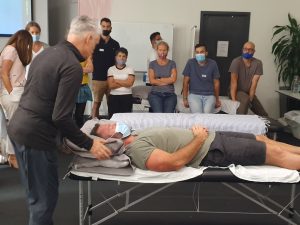 Cervicogenic Dizziness is a 1-day CPD workshop suited to osteopathy, physiotherapy and chiropractic which includes theoretical and practical components. A rudimentary understanding of vestibular conditions is encouraged but not a prerequisite to attend.
The course will run from 9AM to 5PM and places are limited to 24 attendees. Morning and afternoon tea are provided. E-notes will be made available for you to print if you require as well as an e-certificate of attendance for your CPD records. The course can be counted as 6 hours CPD.
Presented by Rudi Gerhardt
Rudi is a graduate of Sports-Physiotherapy (Munich, 1984), Osteopathy (Belgium, IAO, 1999) and B.Sc. Anatomy (UNSW, 2002). He has more than 20 years of lecturing and tutoring experience including Anatomy (UNSW), Neuroanatomy & Clinical Reasoning (UWS), and Neuroscience, Histology, Embryology and Osteopathy skills (SCU) as well as extensive CPD and at conference presentations. Rudi's special interest is in the field of neuroscience, especially the vestibular and balance system, where he has devoted hundreds of hours study, and has obtained a 'Certificate of Vestibular Rehabilitation'. He is the founder of Life Quality & Health in Murwillumbah.
Read Rudi's full bio here