Get up close with the anatomical structures that you treat every day in your practice and deepen your understanding of pelvic pain presentations.
If it's been a while since you had the privilege of returning to the anatomy laboratory to learn, then you'll love this event!
Pelvic pain and organ dysfunction is a common presentation - with 1 in 5 women and 1 in 12 men suffering. This sensitive area of practice requires a sound understanding of the functional anatomy, embryology and how this translates to common symptomatology, and individualised treatment approaches available.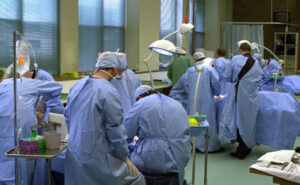 This clinical anatomy course - hosted at the University of Melbourne Cadaver Wet Lab - utilises real cases seen by the interdisciplinary team at the Women's Health & Research Institute of Australia in Sydney to review the clinical anatomy of pre-dissected pelvic cadavers under the guidance of gynaecological surgeon and pain medicine physician Prof Thierry Vancaillie and advanced pain management osteopath Liz Howard.
These cases will highlight the importance of understanding the complex interrelationship of the pelvic anatomy structures and how this helps us understand patient symptoms.
The day will conclude with a tour of Melbourne Uni's private Harry Brookes Allen Museum of Anatomy and Pathology - one of Australia's largest collections of human tissue specimens, comparative anatomy specimens and historical anatomical models.
Learning Outcomes
At the end of this workshop you will be able to;
Better visualise and understand the anatomical structures of the pelvis
Describe the key features of embryological development of the pelvis and perineum
Identify the key anatomical structures on cadaver specimens relevant to common pelvic and perineal pain presentations including

Musculoskeletal tissues of the pelvic girdle (SIJ, PS, Coccyx)
Pelvic floor muscles and the interrelationship to the hip
Lumbosacral plexus, pelvic and perineal nerve pathways
Pelvic organ relationships and connections to musculoskeletal structures

List the key clinical signs and symptoms of the common clinical presentations of the pelvis and perineum such as

Pelvic girdle pain
Coccydynia
Pelvic floor myalgia
Piriformis syndrome
Pelvic nerve pain including pudendal, obturator

Describe the best practice clinical examination for the above conditions and when further diagnostic testing is indicated (eg. when an internal / gynaecological examination is required)
Course Details
This course is applicable to all medical practitioners and allied health with an interest in pelvic anatomy. It would serve as an excellent addition to Liz Howard's Pain & Pregnancy and Pelvic Pain Puzzle courses.
The course will also feature exclusive access to anatomy, embryology, physiology pre-learning videos (to maximise time in the lab). Internal techniques will not be demonstrated.
The course will run from 8:45AM to 4:30PM. Places are limited to 24 attendees. It includes morning and afternoon tea and an e-certificate of attendance for your CPD records. The course can be counted as 8 hours CPD.
About the Presenters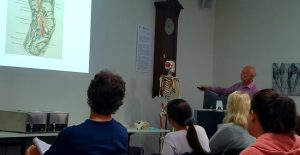 Professor Thierry Vancaillie is one of Australia's few accredited Gynaecologist and Pain Medicine Physicians, renowned for his role in developing minimally invasive procedures, including hysteroscopic and laparoscopic surgery. His expertise includes pudendal neuralgia, pelvic pain, post-surgical pain due to mesh implants and the surgical treatment of infertility due to Asherman's Syndrome.
Liz Howard has 25 years experience as an osteopath. She holds the title of Advanced Pain Management Osteopath (USYD), pain educator and clinical specialist in sacral neuromodulation. She has more than 17 years' experience teaching at multiple Australian universities and as a CPD provider. Liz has been working in collaboration with Prof Vancaillie the team at WHRIA for over 10 years, providing osteopathic manual therapy, pain education, exercise and home care advice to help guide patients on their path to recovery, as a part of a whole team approach.
The Women's Health & Research Institute of Australia (WHRIA) is a tertiary specialist clinic for pelvic and perineal pain, general gynaecology and hormone issues, with referrals for women and men from all over Australia.